THE ART OF TRUST - vertrauensvoll entdecken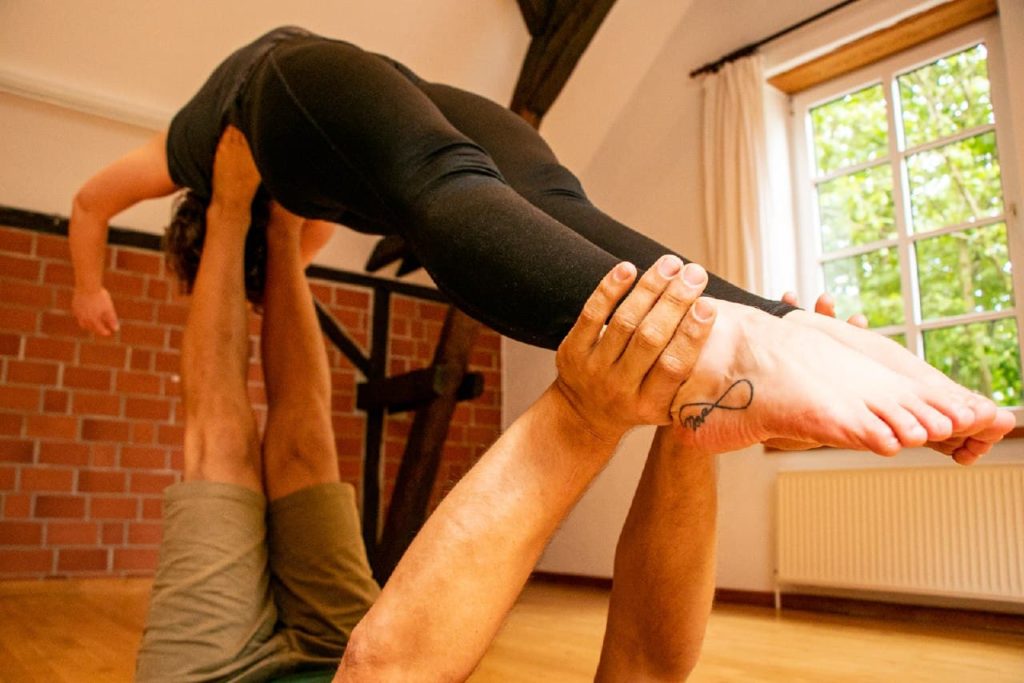 WORUM GEHT ES AN DIESEM TAG?

In diesem Workshop werden wir uns auf spielerische Art und Weise dem Thema "Vertrauen" widmen. Wir möchten mit Euch erforschen und herausfinden was es heißt:
"Vertrauen zu haben"
"Vertrauen zu schenken"
"Vertrauensvoll zu sein"
"Misstrauisch zu sein"
Und "zu Vertrauen".
Damit wir unterschiedliche Qualitäten und Ausprägungen von Vertrauen erfahren können, warten auf Euch Körper-, Partner- und Kommunikationsübungen, sodass wir uns auf vielfältige Weise der Kunst des Vertrauens annähern.
Schon mal was von Flugangst gehört?!
In so einen Metallkasten zu steigen, ohne selbst die Kontrolle zu haben kann ganz schön gruselig wirken. Wir haben da was Besseres: Therapeutisches Fliegen!
Mit dieser Kunst der Körperarbeit, kann es zwar hoch hinausgehen, muss es aber nicht. Hier wird die fliegende Person auf den Füßen der liegenden Person (Base) getragen.
Es kann in einer gewohnten Position, wie z.B. dem Sitzen anfangen. Und wir werden Euch mit Zwischenschritten sicher und gut vorbereitet zu der klassischen Haltung "Folded Leaf" bringen.
Dabei kann erforscht und erlebt werden, wie man getragen und gehalten werden kann – sowie Halten und Tragen kann.
Und wie man in beiden Rollen Entspannung finden oder gelassen bleiben kann.
Erfahre dich in einer bisher ungeahnten Leichtigkeit und Kraft, getragen oder trage auf Händen und Füßen.
Das therapeutische Fliegen ermöglicht es uns, eine ganz andere Art von Verbindung mit unserem Partner einzugehen.
Das therapeutische Fliegen ist für uns ein Tool um miteinander in Kontakt zu kommen und dabei zu erfahren, wie man in die eigenen körperlichen Fähigkeiten vertrauen kann. Ebenso ermöglichen die unterschiedlichen Rollen auf vielfältige Weise zu erleben, wie man über klare Kommunikation und Austausch eine vertrauensvolle Beziehung aufbauen kann und diese stärken kann.
Euch in einen sicheren und vertrauensvollen Kontakt miteinander zu begleiten ist die Ausrichtung für diesen Workshop.
WAS LERNST DU HIER?
In diesem 3 Stündigen Workshop wirst du Tools lernen, die dir helfen…
Ein Vertrauensverhältnis zu deiner Workshop-Partnerin aufzubauen
wie man bereits in einem bestehenden Kontakt tiefer sinken kann

zu erkennen, wie in welchem (nervensystemischen) Zustand dein Partner gerade da ist, um diesem mit einer angemessenen (inneren und äußeren) Haltung begegnen zu können.
ihr lernt Grenzen wahrzunehmen, zu kommunizieren und auch über Euch und Eure Grenzen hinauszuwachsen
Weitere Inhalte sind:
Eine praktische Einführung in die Polyvagaltheorie bekommen, welche u.a. Basis unseres trauma-sensitiven Ansatzes ist
Lerne Dich und andere zu regulieren, besonders wenn z.B. Gefühle wie Angst, Furcht und Unsicherheit auftauchen
Einblicke in die Kunst des Therapeutischen Fliegens in unterschiedlichen "Flughöhen"
FÜR WEN IST DIESER SCHNUPPER – WORKSHOP?
Dieser Workshop ist für Dich, wenn Du mehr Vertrauen in deinen Körper, deine Fähigkeit zu Grenzen zu kommunizieren und Verbindung einzugehen weiter entdecken möchtest.
Dieser Workshop ist für Menschen, die gerne mit jemandem aus ihrem näheren Umfeld mal wieder etwas neues Erleben möchten.
Menschen die noch wenig oder noch keine Erfahrung in Thaimassage, Körperarbeit oder AcroYoga haben.
Ebenso ist dieser Workshop für Menschen, die bereits erfahrene KörpertherapeutInnen, Coaches oder Masseure sind und ihre Fähigkeit mit dem Thema Vertrauen zu arbeiten erweitern wollen.
Nutze diesen Workshop als Selbsterfahrung.
Dieser Workshop ist ein Partner-Workshop – das kann ein Familienmitglied, dein Partner, deine Mitbewohnerin, dein bester Freund oder dein Kollege sein.
(Bitte achtet selbst auf die aktuell geltenden Regelungen).
Für die Teilnahme brauchst du eine*n Partner*in, bequeme und lockere Kleidung. Für Euch beide benötigt ihr eine Yogamatte und ca. 3qm Platz ;).
ZEITEN
Samstag, 08.05.2021 10 -13 Uhr
PREISE inkl. Handout, Videobegleitmaterial
58€ für 2 Personen (29€ pro Person)
39 € für 2 Personen (eine oder beide GeringverdienerInnen mit Nachweis* (* Studenten, Berlin-Pass mit Nachweis)
39 € für AusbildungsteilnehmerInnen mit 2. Person
ORT
Online von Dir zu Hause, wir nutzen die Plattform Zoom.
Du bekommst eine Anmeldebestätigung mit dem aktuellen Zoom-Link.